Brief History
The Institute of Education was established in 1998 to address the trends in education and to meet the demands initiated by the governmental educational reforms, and in 2000 an in-service program was also included to the institute.
The current director of the Institute is Dr. Hsueh-Hua Chuang. Our past directors include Dr. Ying-Yao Cheng (1998-2001), Dr. Ching-Hwa Tsai, (2001-2004), Dr. Shuk-kwan S. Leung (2004-2007, Jan.), Dr. Shu-Ching Yang (2007-2008, Aug.), Dr. Wen-Bin Chiou (2008,Sept. to 2014, Jul.), Dr. Pei-Yi Chou (2014,Aug. - 2017,Jul.), Dr. Zuway-R Hong(2017,Aug - 2019,Jul. ), and Dr. Hsueh-Hua Chuang(2019,Aug-Present).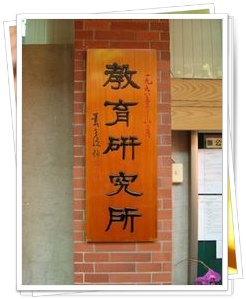 The objectives of this institute are to cultivate educational research competences, strengthen the interdisciplinary process, and promote international exchanges of educational research efforts.